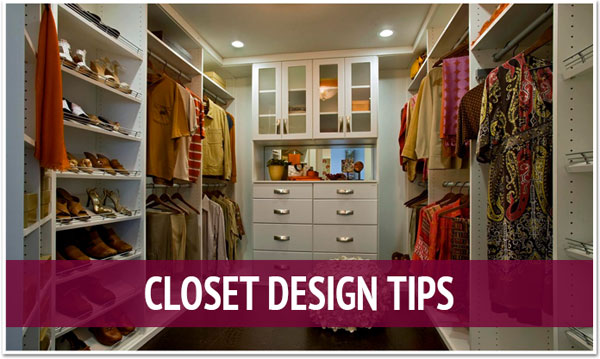 1. Take advantage of all the space
From floor to ceiling, from wall to wall, utilize all the available space with space appropriate accessories, shelving, bins, rods and roll-out drawers. Less accessible space works well for off-season storage or items you do not use very often.
2. Design so you can see everything
For a clothing closet, start the day right finding the right shirt for the right pants, without hunting through layers of clothing. If you have a tall space and can put more than one rod, design based on what your wardrobe looks like - rods spaced the needed distance apart for the type of clothing.
Also, take advantage of the right accessories for the right content, like acrylic or glass fronted drawers, belt and tie racks, and drawers with dividers. These accessories can also work great in mudrooms, laundry and craft rooms...basically anywhere you are creating an organized closet space.
3. Factor in the lighting
It helps if you can see everything - in just the right light! If natural sunlight is not available, you need artificial light between you and the items in the closet. Best options are as close to natural light as possible so the clothing shows its true colors.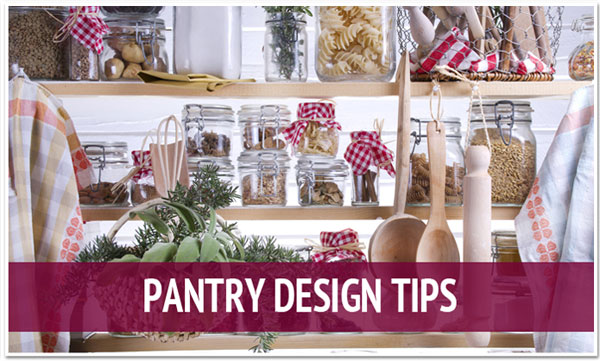 1. Pantry Location
Ideally, a pantry should be near to where food is prepared.
2. Shelving
For any storage, shelves higher than the eye level should be stepped back so contents can be viewed more easily without a step stool and so the items can be more easily accessed given the return at the top of the closet.
For other shelves, group items by common height and set the spacing accordingly. Typically shelf height averages are:
6" - 8" for cans,
12" - 14" for general storage,
16" - 18" for bulk storage.
3. Pantry Lighting
As with most design, lighting is very important when creating a functional space. You need to be able to find items in your pantry whenever you look for them. Preferably, include lighting between you and the items stored so that you can see what is in your pantry.
If there isn't enough depth to install overhead lighting that will illuminate adequately to the bottom shelf, an option is to install an LED light strip out-of-sight down the two front corners of the pantry cabinet. The extra benefit with this option is the strips illuminate each shelf quite well.

How to maintain my new furniture?
To dust, use a soft, dry cloth.
To remove stains, use a cloth soaked in a water and mild detergent mixture.
Avoid placing any wet objects directly on the furniture (to avoid leaving rings).
Do not use put hand sanitizer or other alcohol-based products on the furniture.
Assembly tips?
First and foremost - if we do the design for you, we also install the accessories. If you purchase additional or replacement accessories and install them yourself, here are some installation tips:
Always read the instructions carefully before starting an installation.
Layout all the parts, including the hardware, and compare against the counts for everything listing in the installation instructions.
If the instructions suggest more than one person do the installation, it is for your safety to do so to avoid injury.
We recommend assembling the furniture as close as possible to it's final destination. This will help to avoid injuring yourself or the furniture in moving the item unnecessarily.
How to maintain my new cabinets?
Clean cabinet exterior with a solution of dish soap liquid and warm water. Rinse thoroughly with another clean cloth before drying with a final cloth. This mild solution is enough to get food smudges, dust and mild grease build-up off of your cabinets.

For heavy build-up of grease and dust, it is best to use products such as Murphy®
To clean the interior, if there are a lot of crumbs, it may be a good idea to vacuum the cabinets before wiping them down. Wash the interior with warm water and mild dish soap liquid, rinse with another clean damp cloth, then wipe dry with an additional cloth.
Clean at least once a month to protect the wood.
If a spill occurs, clean and dry immediately. Left unattended, a spill can soak through the laminate or wood surface and cause damage.
On wood surfaces, do not use any products containing alcohol, such as hand sanitizers, as it can damage the wood finish. Also, never use soap pads, steel wool, or cleaners with abrasives. Do not wax or polish cabinet surfaces, and avoid draping damp cloths or dish towels over the cabinet doors.